Congratulations on your engagement! We are just as excited as you are and we can't wait to join you on your journey. Many brides are curious to know when is the right time to start the hunt for their wedding gown. Truly there is no time too early to start looking following your engagement! It is a fun experience so starting your journey early is favourable. We generally recommend a year before your wedding date as this is the most optimal to give you lots of room for your timeline.
When you have decided it is time to start looking for your gown it is best to look for inspiration online, social media, etc. This way you can start to get an idea of what you like and you will be able to show and tell your bridal consultant what you are looking for. Be sure to bring pictures as that will really help us pull gowns for you! Just remember to trust your consultant and approach the appointment with an open mind and we will do everything we can to help you find the perfect dress.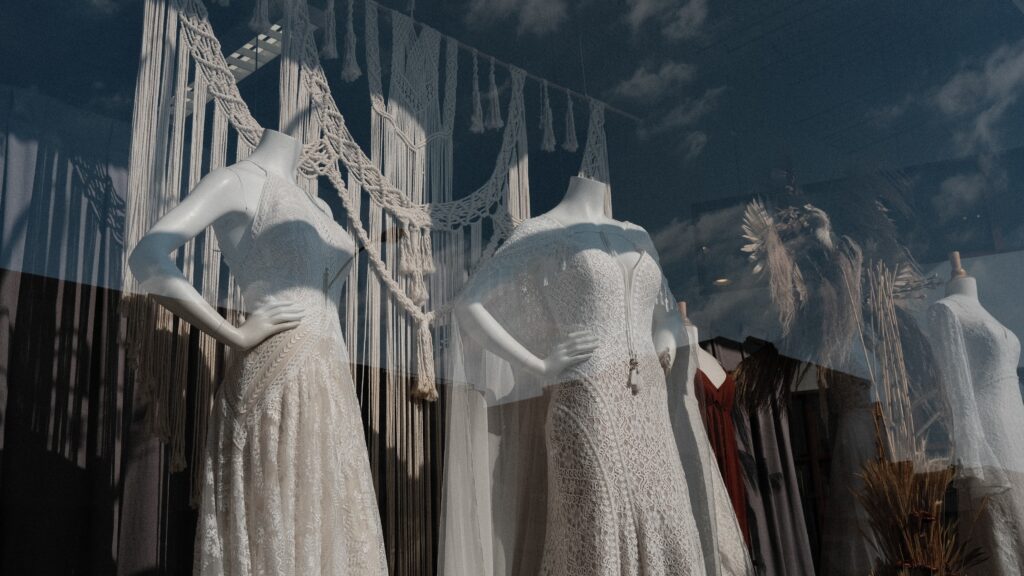 If all goes well in your bridal consultation you will ideally have said yes to a dress! When you chose a gown we will celebrate first and then quickly get to work. We will take your measurements of your bust, waist, hips, and length. This way we can match your measurements to the best fit size gown that we will order for you. Some gowns are able to offer custom measurements for an extra fee as well which may be an option depending on the designer. Once we have discussed the best size to order for you we will go ahead and place an order, and then the waiting period begins.
Many brides are unaware that when a wedding gown needs to be ordered they can take from six to eight months for your gown to be created and shipped back to us. Most wedding gowns are made to order, thus the longer than expected wait time. There is rush ordering available from some designers, but if you start your journey early enough you won't have to worry about that! We will contact you as soon as your gown arrives in our store. Upon that time you will then schedule your gown pick up appointment where you will come in and try your gown on with us!
When gowns come in bear in mind that you will most likely still need some minor alterations. We have ordered the best fit size for you so there might be some tweaks needed here and there. Every single gown that goes through our doors has needed some level of alterations so that it fits the bride absolutely perfectly. For most ordered gowns you are looking at alterations of strap tightening, seam allowance tightening or loosening, hem adjustments, etc. If you have a train on your dress it is highly recommended to add a bustle as well. All in all, be sure to save room in your timeline and budget for alternation considerations.
If your ordered gown comes in and you are no longer the same size during the time you ordered, don't fret! As we just stated you will most likely need a seamstress regardless so they will be ready to help you with more major alterations if needed. As we now know, it can take around six months for an ordered gown to come back to you so a lot can change in that time! You seamstress will be sure to help you and walk you though all of the alterations you will need for the gown to fit you perfectly. In general if your gown is in need of more major alterations if is recommended to bring it to a seamstress four months prior to your wedding date. This way your seamstress is able to fit your gown to you and there is some room for extra tweaks as well.
After your gown has been perfectly altered to you its time to properly store your gown before your actual wedding. Be sure to hang your gown on its hanger loops (the ribbons that usually are attached inside the armpit of the dress) to prevent any stretching or strain on the gown. Feel free to remove the hanger loops on the day of your wedding if they show through the dress bodice at all. Keep your gown stored in the garment bag up until your wedding to prevent any possible stains or marks. Be very careful of the zipper when closing and opening the garment bag, especially If you have a tulle dress or very detailed dress. We recommend using your other hand as a barrier between the back of the zipper and the gown to prevent any snags.
On the night before your wedding we recommending steaming your gown and leaving it to hang outside of the garment bag overnight. This way your dress is ready to go right when you awaken of your wedding day! We hope this has helped to give you a general idea of the timeline of a wedding gown!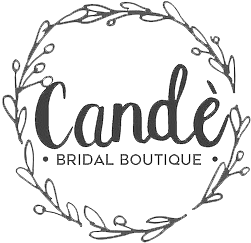 Cande Bridal Boutique
1350 St Paul St #202
Kelowna, BC V1Y 2E1
For more information https://www.candebridalboutique.com/  or find Cande Bridal Boutique