Marylise Wedding Dresses by Candè Bridal Boutique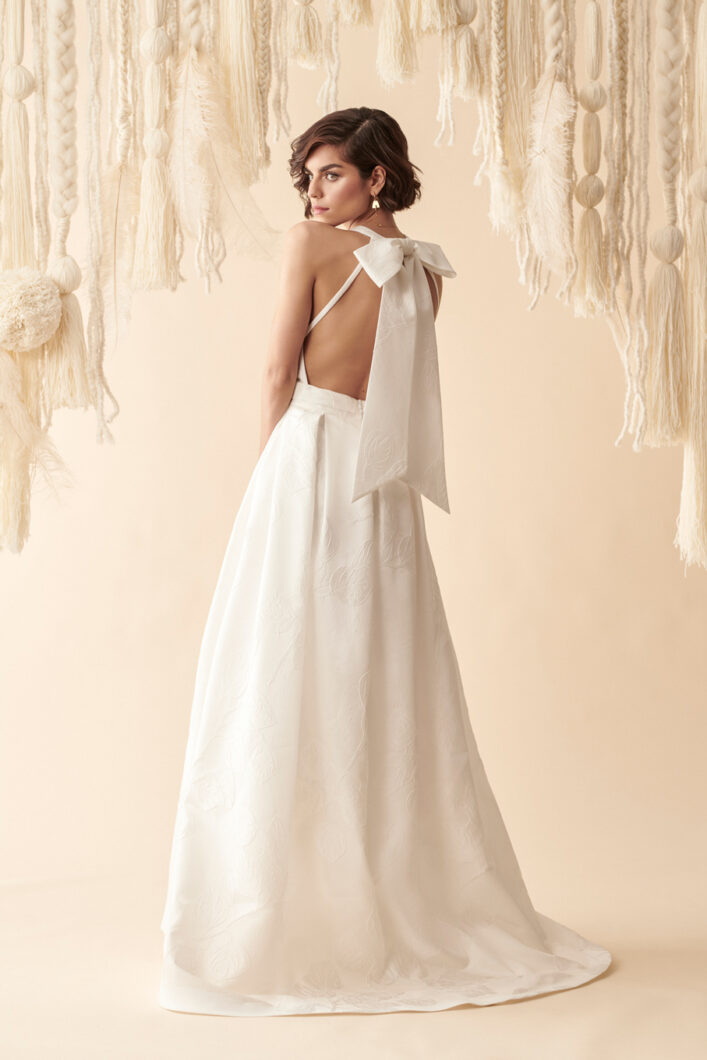 Marylise Bridal Gowns
Welcome to Cande Bridal Boutique's collection of elegant, sumptuous designer Marylise Bridal Gowns. Carefully curated for their fine quality and glamorous design, these bride dresses come in a wide variety of styles to suit brides of many tastes.
From contemporary, smooth lines and high necklines to full skirts and swaths of romantic lace, there is a Marylise wedding dress for every bride. We have procured a collection of nine of our favorite gowns, and we look forward to offering you the opportunity to "say yes to the dress" at Cande Bridal Boutique in Kelowna BC.
Marie Kita
The Marie Kita gown will make you feel like a movie star. This stunning dress offers contemporary sophistication and elegance with clean lines, a flowing skirt, and a plunging V neckline. Finished with a wide bow at the back of the neck, all heads will turn when you walk the aisle in this positively exquisite gown.
Loversland
This open back full lace gown is like a princess' bridal dress. From the detailed bodice with V neckline to the scalloped short sleeves and full skirt, when you wear this dress, you will be positively dripping in elegant lace. This gown is the perfect choice for an afternoon wedding, whether indoors or out.
Just Chilling
This elegant full lace gown exudes feminine romance. From the openwork lace back and delicate, scalloped short sleeves to the plunging V neckline and floor-length skirt, this gown is like something out of a storybook. Openwork lace detail emphasizes the waist while the plunging neckline allows you to show off your own complementary bridal jewelry. This gown offers simplicity and elegance in one, and it makes an ideal choice for a country church wedding or an outdoor ceremony in a garden.
It Was Always You
You will be a vision in chiffon and lace when you wear this breathtaking contemporary gown. It Was Always You showcases the finest in Marylise lacework with gathered, epaulet-like shoulder detail and contrasting patterns in the bodice and waistline. Pearl detail at the back of the waist finishes this gown with a touch of soft elegance.
Holding Hands
This sweet, halter neck dress with lace bodice and chiffon skirt is the perfect bridal gown for that "girl next door" look. Fine lacework in multiple patterns decorates the front of the bodice, neckline and waistline, leaving the back open for an elegant finish. The chiffon skirt is pleated to perfection for long, romantic flow and volume.
Flower Lover
Simple, yet elegant, the Flower Lover gown offers a full lace bodice and long sleeve in contrast to a full, smooth skirt and short train. A sweetheart neckline is shown below the lace overlay, and an open back finishes the gown in sheer elegance. This gorgeous gown could equally suit a formal cathedral wedding or a small, intimate ceremony in the park.
Dream Lover
The bodice of this romantic gown is made from embroidered floral lace over a subtle nude lining. The pretty lacework extends to the back of the bodice, and the full length chiffon skirt offers luxurious volume.
Donatienne
Lovely leaves and swirls of lace on the bodice and sleeves of this gown create an elegant display. Offset by a plunging V neckline with nude underlay, this open back gown offers elegance and sophistication. Finished with a simple yet elegant skirt, this gown is sheer romance.
Crazy In Love
If you're crazy for lace, you'll love this full bodice with short sleeves in detailed, floral lace. Contrasting lace emphasizes the waistline and decorative buttons finish the back. The dress is completed with an elegant full-length chiffon skirt.