Is this your very first time trying on bridal gowns? Yes! Congratulations and thank you for choosing Candé as your first stop on the road to finding your dream dress! Today we just want to cover a couple helpful hints that will aid you during your first bridal consultation appointment. So take it all in and remember this journey is all about you!
Step 1: Book an Appointment
The first step for your bridal consultation is to actually schedule the consultation. Some boutiques have the ability to accommodate walk-ins, however most require an appointment to be booked prior. At Candé we offer bridal appointment scheduling right here on our website! All of our available dates and times are listed under the 'Book Online' tab. Choose the best date and time for you and get ready for an hour and a half bridal appointment with one of our trained consultants.
Step 2: Research
Now that you have a scheduled appointment it's time to look at some of the gowns that already peak your interest. Check out places like Pinterest or Instagram and save some of the photos you like best. You don't need to deep dive into designers, dress cuts, details or any specifics. It's just to give you some inspiration and a potential starting point for bridal consultant. We love it when you have some photos to show us of gowns you like or even ones you have tried on before. But don't worry if you don't have any photos to bring, we have a lot of beautiful dresses to see in store!
Step 3: Choose Your Trusted Bridal Party
Buying your wedding dress is a big deal! It is a special and emotional purchase. For many it is the most important item of clothing they will ever buy! So remember to only include people who love, support and cheer for you every step of the way. Your bridal party must understand that at the end of the day you are the bride and that day and this dress is all for you! Keep in mind that due to covid restrictions we currently only allow a bride to bring a party of up to three people.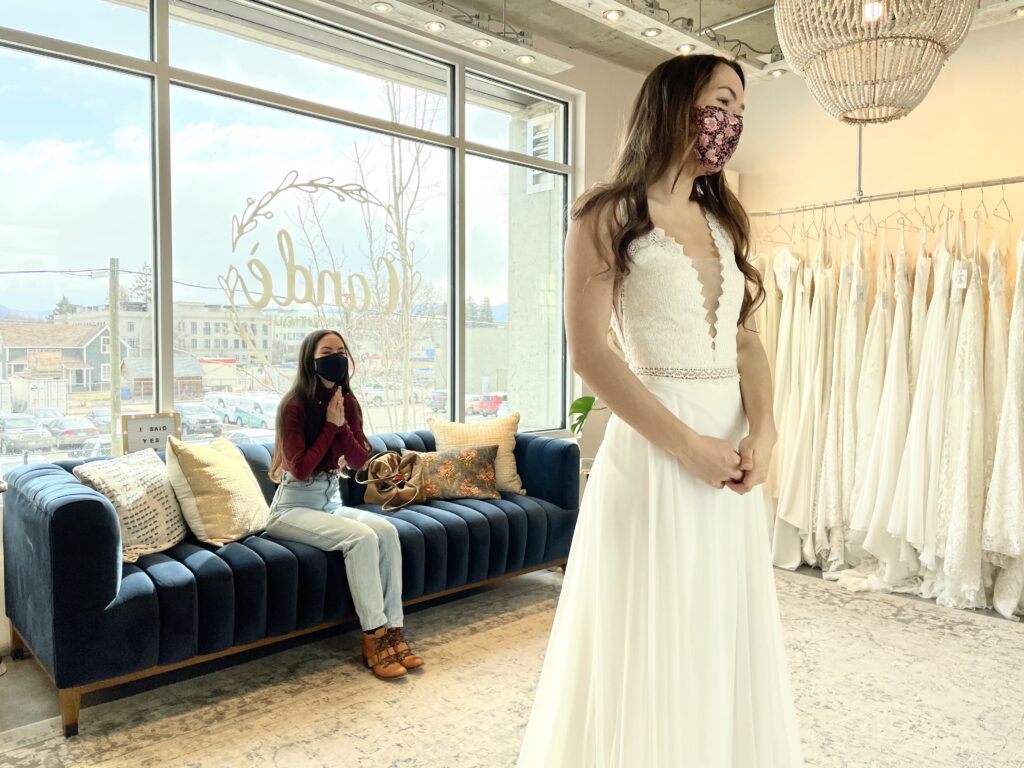 Step 4: The Night Before
Prepare for your appointment the night before by showering so you are fresh and clean for the next day. Remember to pack the essentials like your phone for photos and heels if you have chosen your wedding shoes or want to see what a dress might look like with heels on. Also, because and we are still amidst a pandemic we will require all brides and their party to wear a mask at all times while in the store. We suggest bringing a neutral or white mask to match the dresses, but remember to pack that mask!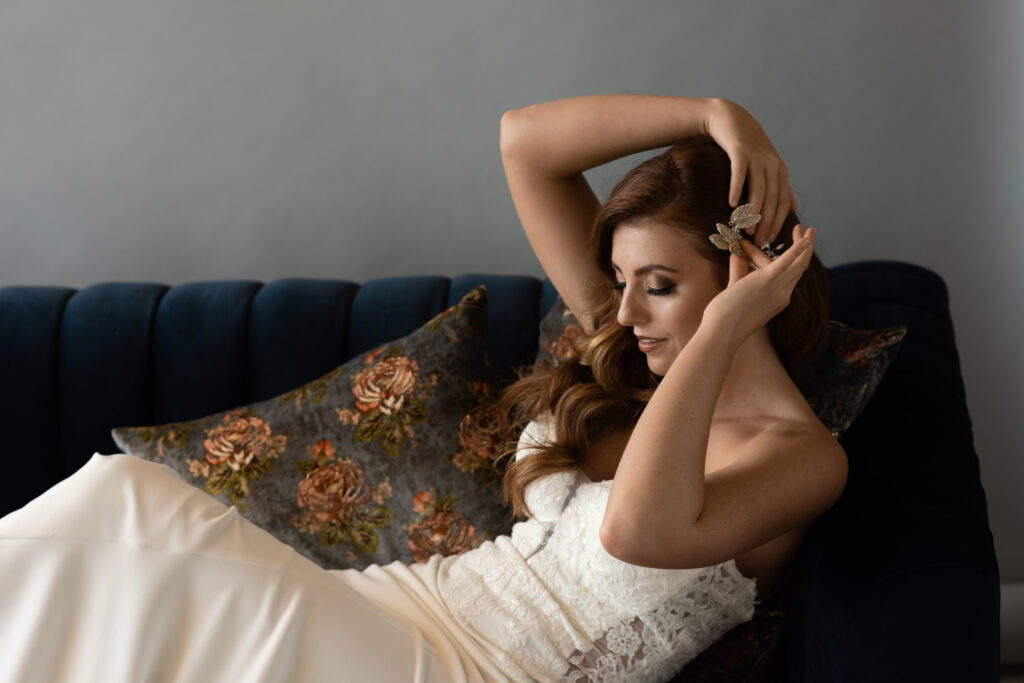 Step 5: The Day of Your Consultation
Prepare in the morning for your appointment by doing your hair and makeup. Nothing crazy, but just enough so you are a little done up and can really experience the gowns. We want you to look and feel your best while you are here! Remember to wear nude full coverage underwear as this will work best for trying on gowns. Slap on some deodorant and head on over to us!
Step 6: Arriving at Your Consultation
Here at Candé we ask you to arrive for your appointments on time and to remove your shoes and sanitize your hands. We can't wait to hear about your wedding and your fiancé! Upon arrival we will need to know your budget and for you to show us any inspiration pictures or ideas you many have. We will ask your bridal party to take a seat on the coach while we pull gowns for you and get you ready to try on the first one. It is now your bridal party's turn to relax and for you to try on some gorgeous gowns!
Step 7: During the Consultation
During bridal appointments and especially for first time consultations we want to get a good idea of what you are looking for in a dress. We will generally have you try on different shapes and silhouettes so you can see how these styles fit on you as bridal gowns for this first time. Remember to trust your consultant! Sometimes the best way for us to narrow down the perfect for you is to try dresses you may not have initially thought you wanted to try on. All we ask is for you to be precise about what you like and don't like about each dress. This helps us to find exactly what you are looking for!
Step 8: Say Yes!
You many find your dream dress here at Candé and it is our dream for every bride to find their gown here! If you think you have found the dress remember to take your time and think about how you feel in the gown. Your bridal party can give you some insight as to what they like, but remember its all about YOU! Imagine yourself on your wedding day and follow your heart. When you have made your decision to say yes let us know and we will get everything underway for you!
Our goal here at Candé is to provide an unforgettable bridal experience for each and every bride who walks through our doors. We hope this was helpful for you and gave you some insight as to what to expect for your first bridal consultation. We can't wait to see you in our store!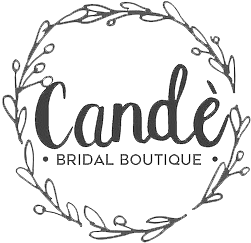 Cande Bridal Boutique
1350 St Paul St #202
Kelowna, BC V1Y 2E1
For more information https://www.candebridalboutique.com/  or find Cande Bridal Boutique