We often get asked why we charge a fee for our appointments and we are more than happy to answer that! Some bridal boutiques charge for appointments and others do not, all for various reasons. At Candè we have a $30 booking fee for our consultation appointments.
The main reason for our appointment fee is the privacy and exclusivity of your time here. We offer a unique bridal consultation experience here at Candè! When you visit us you and your bridal party are the only guests in the shop. Our consultants will provide you with their undivided attention to your questions and concerns. During that time you and your bridal party will be able to enjoy our beautiful space all to yourselves!
We run at 10% capacity compared to most other boutiques due to our private appointments. We do this so that we can offer our brides the absolute best experience! But it also means that we need to be sure that the appointments we do have are always confirmed. The fee for your appointment not only goes toward securing your bridal spot but it is also able to be used towards the purchase of a gown if you happen to find your dream dress here!
There is approximately 12 years of bridal experience behind your appointments. Not only that but we also continuously stay on top of the latest trends and changes within the bridal world! High levels of training has been provided to the consultants in not only bridal but also fashion in general. During your consultation appointment with us we listen to your wants and needs to match you with your perfect dress. We are also able to give expert advice for alterations and adjustments that may be needed for your gown.
Hopefully this explains the bridal appointment fee once and for all! But do not hesitate to reach out to us if you have anymore questions!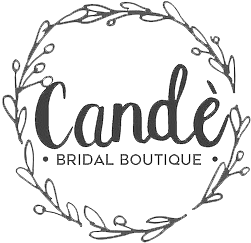 1350 St Paul St
#202
Kelowna, BC V1Y 2E1
For more information https://www.candebridalboutique.com/  or find Cande Bridal Boutique