Finding the perfect wedding dress is an incredible and meaningful experience, but at times it can be difficult to narrow down exactly what you are looking for. Each bride is different, some know exactly what they are looking for, however others don't or they change their minds throughout the shopping experience. 
Inspired by a blogpost from Harpers Bazaar entitled 'The Best Wedding Dress for Your Astrological Sign and How to Shop for It' and this unique perspective of attaching bridal gown styles to your horoscope, we have created our very own Wedding Dress Horoscope. There are so many things that can trigger a bride to find THE dress. This will be a fun look at matching wedding dresses to your astrological sign that can hopefully help you to discover your true gem! 
Aries 
Aries is a brave and courageous sign. She is not afraid to take on new challenges and she is often seeking adventure. An Aries gown should reflect this nature with a daring and sleek design. We have chosen a Lis Simon fit & flare silhouette. This gown is simple yet she demands to be seen! With a deep V neckline and decorative button details all down the chapel train, this is the perfect dress for an Aries bride.
Taurus 
Taurus is a trustworthy and patient sign. She values stability and security to match her dependable nature. A Taurus appreciates the feel and fabric of a gown the most. She should look for timeless and luxurious gowns for her wedding day. We have chosen a comfortable sheath dress from Allure Bridals to match with our Taurus bride. This gown is demure and minimal in the front with a keyhole back banded by a crystal clasp. The perfect mix of traditional and modern.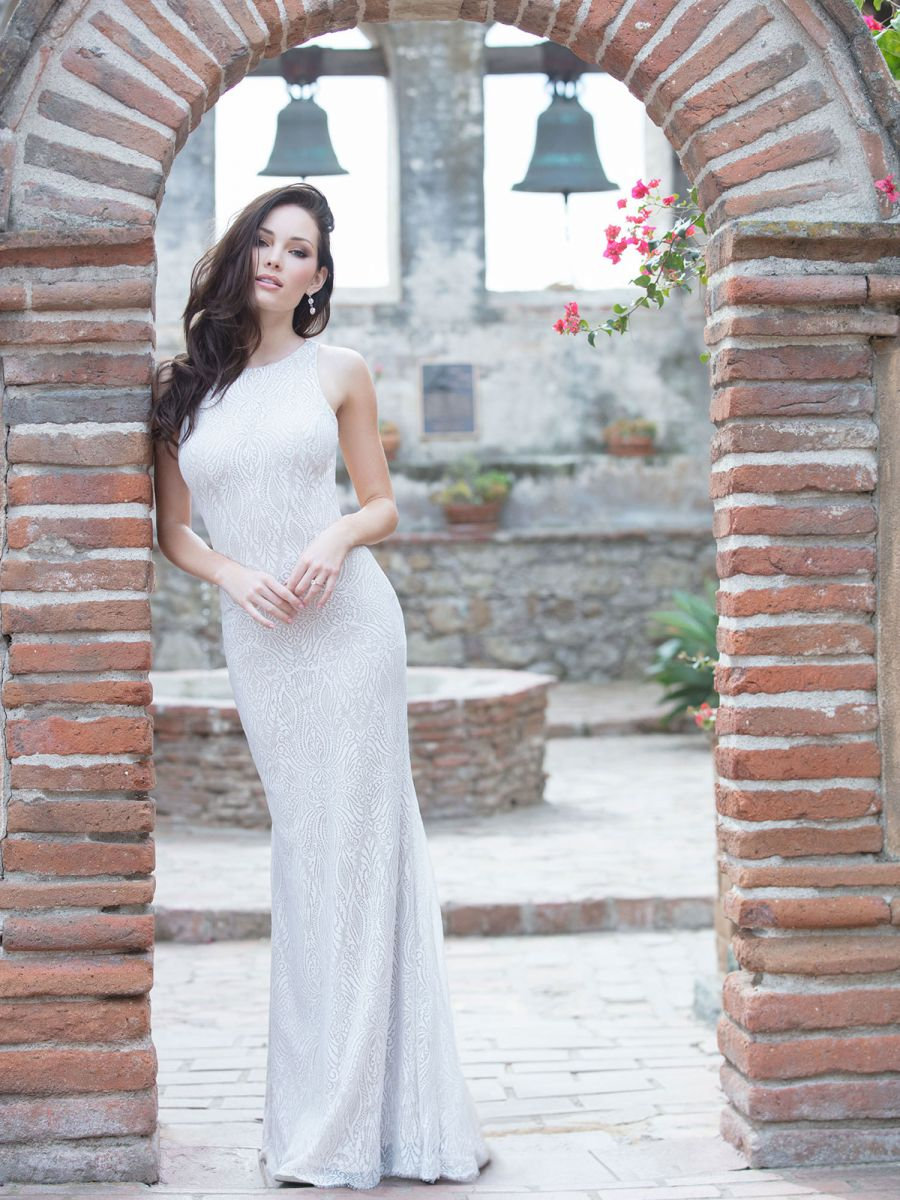 Gemini
Gemini is an intelligent and adaptable sign. She likes to take risks and switch it up. A Gemini will crave something eye catching that people will be telling stories about for years to come. Simplicity won't do for a Gemini gown! We chose this sheer bodice A-line gown from Allure Bridals. This gown is adorned with lace appliques all along the bodice and hem. A beautiful blend of fabric and design to suit a Gemini bride! 
Cancer
Cancer is a compassionate and supportive sign. She is elegant and feminine and we feel this Art Deco inspired strapless gown from Allure Bridals perfectly embodies a Cancer sign. This gown somehow manages to capture both vintage and modern emotions. With a sweetheart neckline, button details and a lace hemmed train for miles. We would love to see this on a Cancer bride!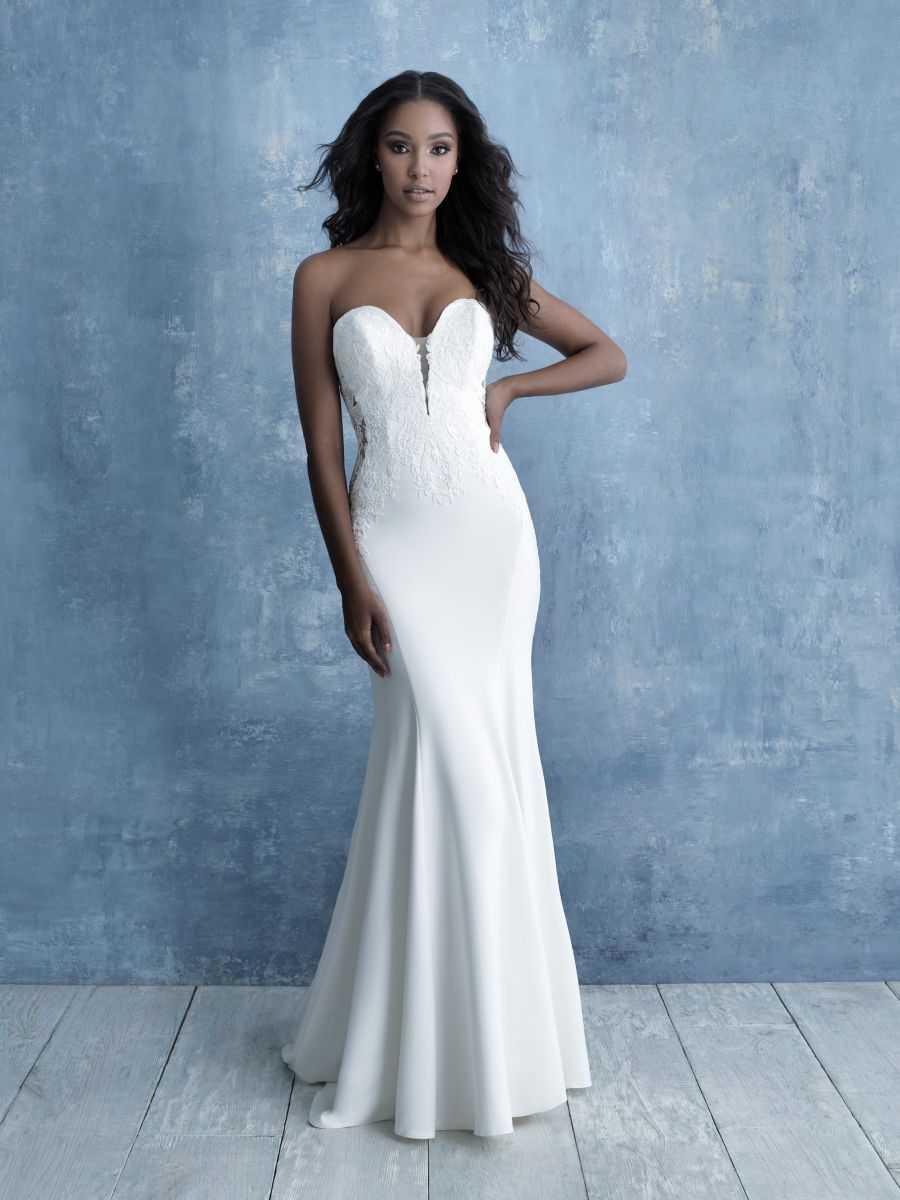 Leo
Leo is a charismatic and exuberant sign. She is bold and she lives to take risks. A dramatic and voluminous gown will suit her perfectly! We have chosen an eye catching Hayley Paige ballgown just for our Leo bride. This gown has delicate sparkling flowers all over the bodice and sprinkled throughout the skirt. A feminine addition to our bold Leo gown. You know a Leo could rock this all night!
Virgo
Virgo is an altruistic and modest sign. She is most comfortable in organized and well planned situations. A Virgo gown should match this aesthetic of functionality but also include high levels of detail. We have picked a fit & flare Lis Simon gown that has been designed down to every last seam. This dress features a sequined lace overlay, deep V neckline with crystal tulle panel, low V back with decorative buttons, illusion lace chapel train and even beaded straps. No detail has been overlooked on this gown for our Virgo bride! 
Libra
Libra is a charming and polished sign. She values harmony and elegance. She appreciates stylish beauty with a modern twist. We have chosen a feminine flowing gown for our Libra bride with a floral lace bodice, sweetheart neckline and floral appliqué spaghetti straps from Lis Simon. Lace trickles down past the waistline and onto the silky chiffon A-line skirt both in front and the back. Open back with a v-shaped backline, zipper and buttons on the back. Let's all visualize our Libra bride running through an open field in the gown! 
Scorpio 
Scorpio is a notoriously passionate and determined sign. She likes to look and feel sultry and powerful. Scorpios are stylish on the daily and their wedding day should be no different. We have chosen an opulent sheath gown that embraces all things textured and beautiful from Madison James. This gorgeous fitted gown accentuates all of Scorpios curves and features a mix of lace, beading and rhinestones. Our Scorpio bride will be making a statement in this incredible gown! 
Sagittarius
Sagittarius is an ambitious and optimistic sign. She likes to make an impact and be the life of the party. We have chosen a ball gown from Allure for our Sagittarius bride. The beautiful gown is made of Mikado silk and features a deep sweetheart neckline for a flawless look. She is timeless in the front and party in the back with the beautiful applique and rhinestone detail. The perfect party dress for a Sagittarius bride!
Capricorn
Capricorn is a determined and patient sign. She has a great appreciation for the finer things in life. Capricorns are down to earth and they should have a gown that allows them to move as they please while still looking elegant. We have chosen a Lis Simon off the shoulder fit and flare gown with buttons all the way down the chapel length train. This is a timeless and comfortable gown with just enough detail for our Capricorn bride.
Aquarius 
Aquarius is an intelligent and altruistic sign. She tends to be a unique and eccentric person who always marches to the beat of her own drum. An Aquarian will desire a memorable and one of a kind gown. We have chosen a deep V Lis Simon fit & flare gown with intricate lace overlay and crystal tulle panel. She features detachable veil wings for our enigma Aquarius bride to create beautiful shapes and scenes for her photos.
Pisces 
Pisces is a romantic and intuitive sign. She is dreamy and whimsical and her wedding gown should give us the same vibes. We have chosen a flowing and soft Lis Simon A-line gown for our Pisces bride. This V neck gown features an illusion lace bodice with romantic floral lace . Any Pisces would feel like they were floating on a cloud in this dress on their wedding day.
We hope this can help you along your way to finding the perfect gown as well as by having a little bit of fun! Do you think we chose the right gown for your sign? Let us know!
Please enjoy and remember to book your appointment online today!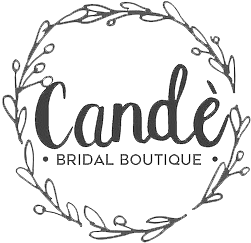 Cande Bridal Boutique
1350 St Paul St #202
Kelowna, BC V1Y 2E1
For more information https://www.candebridalboutique.com/  or find Cande Bridal Boutique