Candè Bridal Boutique
   An Unforgettable Bridal Experience…
Loved every minute of being in this studio! Chelsea was fantastic to work with and made it such a memorable experience. Can't forget that the gowns were absolutely breathtaking. Would 100% recommend to other brides 🙂
From the moment we arrived, to the second visit on the same day, to the celebration of the "yes", the consultant made this experience everything it is meant to be: magical. Thank you Chelsea for demonstrating your understanding of how emotional, significant and important of a decision this was for TyLynne. You were attentive, genuinely engaged and asked just the right questions to make her trust your help. And you included us, the entourage, in the excitement. This was more than dress shopping; this was a significant moment in a her life and you made sure it was stellar. Bravo! Highly recommend this boutique.Mother of the Groom
I highly recommend Cande Bridal to anyone that's looking for exceptional service, an amazing selection of beautiful dresses, and that extra special personal touch! I especially appreciated the personal appointments, and incredible intuition of the people who work there. Thank you, Cande Bridal for being so accomodating - and for my amazing dress!!
Fantastic experience. Yes, you need to pay $30 for your appointment but it was more than worth it. The space is gorgeous and they have a big variety of dresses and styles to choose from. Michelle was great and she felt like a friend. She listened to what I liked and disliked and brought me beautiful options. It was really nice having the whole space for me and my group. I would absolutely recommend booking an appointment at Cande.
Very warm and welcoming staff! They were very understanding and helpful as I have mobility issues. It was great to not feel rushed and enjoy the day!
I got married two years ago and still think about my experience at Cande. I send every bride to see Adriana and her team. I promise they'll make you feel like a princess and ensure you find the dress you've been dreaming of.
I found the dress and had the most amazing time! It felt laid back, fun and also super cute and glamorous all packaged up into one appointment. They were accommodating and had a great selection for a small boutique. They did their research before my appointment, so we really hit the ground running when I arrived! They made me feel special, beautiful and helped me find the PERFECT dress!!
My experience at Cande was nothing short of amazing! The boutique itself is so peaceful and beautifully designed and I loved that I had an opportunity to browse the dresses myself and pull a few to try on (something I didn't have a chance to do at some of the other boutiques I went). Both the owner and one of her Bridal Consultants were so friendly and encouraging and made me feel 100% confident and at ease - they were so complimentary and pulled dresses that completely aligned with my vision! I am so so happy with the dress I chose and look forward to trying it on again when it arrives!
Chelsea helped us with dress shopping and was absolutely wonderful!! Her warm and welcoming demeanour ensured we had a top-notch experience and I got the dress of my dreams! I cannot recommend this bridal shop enough. Really appreciate the flexibility, the appointment and having the space to ourselves, and the truly superb staff and selection of dresses. Thanks again!
Very beautiful bridal store. You get a private session and staff is super helpful.
The entire experience from booking my first appointment to picking up my dress was exactly what I wanted it to be. The atmosphere is very calming and warm. The girls were all so relaxed and helpful. I didn't feel pressured at all, like I had in other shops. Carolina was so encouraging and sweet, and Michelle was incredibly patient and really helped me narrow things down - I'm pretty sure Michelle knew which dress was mine before I did. Picking up my dress when it came in was a breeze too, and they gave me some names/numbers to contact for my alterations which was so helpful! Everyone I interacted with was truly so genuine, and I felt like they really cared about me finding the right dress. Truly the best experience all around, from start to finish. I can't say enough good things.
We found ourselves at Cande when my daughter-in-law's wedding dress didn't fit because of her ever growing baby bump and we were forced to find a replacement. We were frantic as the wedding was only a week or so away. We were squeezed in and pleasantly surprised by the help we got.I was worried when we stepped off the elevator as the boutique looked very exclusive. I didn't think this was the place for us. The consultant was absolutely amazing. She worked within our limited budget and treated us with the utmost respect. My daughter-in-law got her bridal moment and we found the most beautiful dress that when altered slightly, suited her perfectly.I would send anyone to this boutique!!!!! Thank you, thank you, thank you!
I cannot say enough about how wonderful my experience at Cande Bridal was. Not only were the consultants amazing, but they were able to pick out my dress first try just based off of a couple of photos of styles I liked. We continued to try different options to make sure it was in fact my dress, and everything they brought me was absolutely beautiful. When I was trying to figure out if I was going to say yes to my dress they stepped back and let me think it through, they were not pushy at all and let me have my moment. If you are looking for a wedding dress this place is a must!!!
I can't say enough good things about Cande!!! They have the most beautiful shop and dress selection. The staff are incredible! I had my consult with Carolina, she was so helpful and so sweet! She did not make me feel pressure to buy or make up my mind - she genuinely cared that I found my dress! And at the pick up appointment Michelle was the best hype woman ever!! And Adriana answered all of my questions calming all my nerves! They made the experience of buying a dress so much more better than I could have ever imagined! I can't wait to walk down the isle in my dream dress! Thank you 💕
This is the first and only boutique I visited, and I found the perfect dress! The space is full of natural light and beautifully decorated. Full of boho/chic dresses. I got a major discount on my sample sale dress.
Wow! Adriana is incredible and makes you feel so special as a bride - and their boutique is beautiful! Even with my short timeline she made sure she found some options in styles that I love. I fell in love with the very first gown I tried on and while I didn't end up purchasing that gown, my experience at their boutique was exceptional. Thank you for such a special experience trying on gowns for the first time!
The ladies at Cande went above and beyond to help me find my dream dress on a time crunch. They were creative and caring. I would recommend this boutique to any bride to be!
We had a fantastic experience at Cande! Totally recommended them! We showed a picture of the dream dress and ended up buying the first dress they gave to try on. They knew exactly what to show us. Beautiful boutique. Amazing staff!
We absolutely fell in love with the staff at Cande Bridal ! Her show space in the oaken Augen is absolutely breathtaking the dresses, The insight, the experience was all entirely a vibe ! Thank you !!!!
We had an excellent experience at Cande Bridal Boutique! It was so nice to have a one on one consultation, without the attention being split between myself and another party. The gowns were absolutely fabulous, and the staff was incredibly knowledgeable and helpful! So glad I purchased my gown from this boutique, I would recommend it to anyone!
I loved the experience I had at this beautiful boutique! I went to many different places in town to find my dress and I kept getting pulled back to Candè. I am so happy that I got my dress here. Carolina is amazing! She truly seems to care and it was so fun to have her as part of my wedding story!
I worked with Cande Bridal for a styled shoot for Rocky Mountain Bride Magazine. They allowed us choices and options for dresses and the dress selection was wonderful! Can't wait to work with them in the future.
I had a fantastic experience at Cande!!! As an easily overwhelmed person, she provided the perfect relaxed and fun appointment. I was listened to and the boutique is beautiful! I had an appointment at another store and was debating buying a dress there but the no pressure environment of Cande made it so much easier to say yes here. So glad to have found the perfect dress at this local business and would 100% recommend it to anyone looking for their wedding dress. Thanks Cande!!!
Such a lovely and intimate experience with Cande Bridal with private appointments and having the whole store to yourself. I couldn't have asked for a better experience finding my dress. They were so easy to deal with and had so many options both standard and unique. Would recommend to any bride looking for their dress!
The experience and customer service were excellent from beginning to end. We found the perfect dress for my daughter and even through pandemic challenges they made the event magical. Well done!
Cande Bridal Boutique is a truly unique bridal experience. The women involved in this business are as excited as you are when you find your dress and they do everything in their power to make it a special experience. I chose my dress 11 months before my wedding and had some second thoughts during that time, Adriana encouraged me to come back into the shop, try my dress on again, and go from there. I still loved my dress and felt so reassured, it truly put my mind at ease. The boutique is full of beautiful, hand picked gowns and it's also a beautiful space to choose your dress. Thank you again ladies of Cande!
My experience with Cande Bridal was fantastic. Adriana is such a lovely person and took the time to talk me through my dress decision. I was torn between a dress here and from Bliss, and at no point did I feel pressured by her to pick the dress at Cande. Obviously she was excited when I picked hers, but I could tell that she really cared about what was right for my wedding day. I would definitely recommend going to Cande for beautiful dresses and amazing service from someone who knows what she is doing!
Adriana is amazing! I had the privilege of working with Cande Bridal for a styled shoot and her dresses were GORGEOUS. I would highly recommend Adriana for any brides looking for something different and authentic.
I love working with Cande Bridal here in kelowna. I have worked with them a few times now and love the dresses and details they have provided for our teams for styled shoots.When creating bridal hair and makeup styles, it is so important to compliment my work with a beautiful wedding gown and details.Looking forward to working with them again!
Beautiful gowns and a fantastic personality!
The minute I walked into Candè Bridal I immediately felt whisked away to bridal dress heaven. Adriana was so welcoming, kind and knowledgeable. She understands the needs of her clients and the importance in creating a genuine connection with each bride in order to help choose their wedding style.
Can't say enough good things about Adriana and Cande Bridal! Adriana was so kind to me and my family and welcomed us with open arms during my first appointment. She really takes the time to get to know you and your story, she loves her job and it truly shows. I wasn't even looking for a dress when I had my appointment but I ended up finding the one. My appointment ran a little bit later than expected and Adriana had plans later that evening, but she took the time to help me make the right decision and to help me turn my vision into reality. The boutique itself is so cozy and welcoming with an amazing selection of gowns. I would encourage any bride to check out Cande Bridal, it will surprise you in the best way possible!
I made the trip from Vancouver to Kelowna to check out Cande Bridal and I am so happy I did!! Adriana is so sweet and I love supporting local small business'. I was able to find my dream dress at a sample sale so I saved a lot! The whole experience felt very personal as we had the store to ourselves and we got champagne!! I would definitely recommend this bridal store to anyone looking!
All I can saw is wow. Shopping at Cande Bridal Kelowna was such a great experience. Adriana was super professional, kind and genuinely invested to help me find my dream gown (which she did!)It was my very first day trying on dresses, so I was nervous and unsure what experience i may have but Adriana made me so comfortable and welcomed. It was also really neat having a private appointment so her attention and focus was on me the entire appointment.I would recommend this salon hands down to anyone looking for bridal gowns in the Kelowna area.Thank you again Adriana - looking forward to seeing you and the gown in the next 6 months !!
How AMAZING is this place? I went looking for my wedding dress and the second we got upstairs into Cande it felt like a wedding gown store out of a movie. The room to show friends and family the dress is adorable, they're able to enjoy champagne while waiting, I loved every dress I tried on, and the store was laid out beautifully. Most importantly though!!! Carolina, who was helping us find a dress, was so kind, patient, excited and happy to be there, and understood what I was looking for even though I didn't have the clearest idea myself yet. We even accidentally went a bit over time because we were having so much fun, and she never made me feel rushed. You can tell she loves her job. I recommend this place to everyone.
My first impression of this store was that it is absolutely beautiful with the most amazingly gorgeous and stylish dresses. Adriana is so sweet and very welcoming. And the best part is it's private appointments!!! Highly recommend this store
Highly recommend Cande Bridal. They helped me find my perfect dress and were so kind throughout the process. Thank you for everything!
Had an amazing experience and Adriana was extremely helpful when helping me choose my perfect dress, they have a wide variety of beautiful dresses at a great price. Definitely would recommend to come to this bridal boutique!
Absolutely amazing!These woman treat you and your party like gold! Very great selection and prices!'Love this boutique !
Amazingly beautiful boutique! Great service and selection. A must go to for any bride to be!
Even though I did not find my dress here, my experience was so delightful! I would recommend this modernly beautiful shop to anyone!
Absolutely amazing experience!! I´ve been wedding dressing shopping for the past 9 months around Vancouver, the Fraser Valley and the Okanagan and I can without a shadow of a doubt say this place offers not only the most original and diverse collection but the best service.Adri the manager understands the stresses of the moment and really works to make the experience memorable. We brought champagne and we were not only welcome to have it but offered glasses and ice for it.The staff are clearly educated in fashion and customer success, they truly understood my vision and the wedding focus, helped me narrow down dresses to look through and try that were within my budget. They even made me realize I had a missconception about certain styles. I didn't feel pressured for anything at all and actually found my dress during the appointment!I would recommend this place over any other a million times, I am very grateful for everything they´ve done!
Beautiful store that we helped decorate for Valentines. Love working with people like Adrianna who are so passionate about their business.....you can feel it as soon as you walk through her doors.
Cande Bridal is the MOST amazing boutique. 💕My experience was SO special, and Adriana made me feel truly beautiful. Her warm welcome, attention to detail, expertise and exceptional customer service made finding my perfect dress an experience that I will treasure forever. 💕
I love everything about this place as they had so many options when booking an appointment from a private room to VIP service! The selection is great, so don't bother going anywhere else!
Best bridal shop in town hands down...they care so much about you and your time with friends and family. Listed to my concerns and priorites and made me feel like I was the only one and most important person that day. I loved my experience here and I hope everyone comes and visits this store so they can see the difference between the other places, the quality and selection of dresses. Thank you Cande Bridal!!!
The boutique is has an absolutely stunning selection of dresses, and is absolutely adorable! If you are in the market for a wedding or any bridal party dress, you should check it out.
Beautiful gowns, their selection is great, my favourite part is the service and stunning location! recommended for sure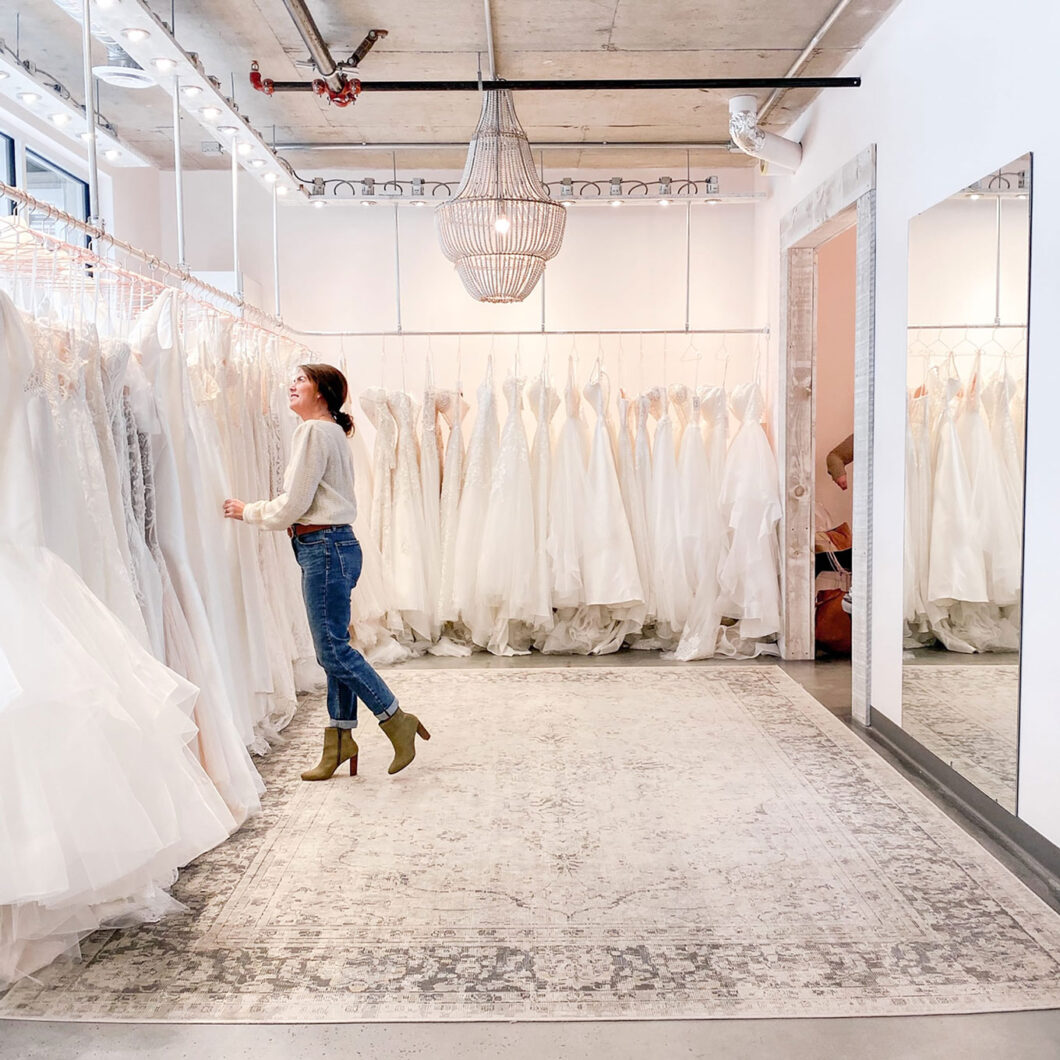 About Candè Bridal Boutique
Every detail at Cande Bridal Boutique is choreographed to create a romantic and memorable wedding experience for our brides. The selection of the gowns and designers we carry has been a dream come true for us, we are madly in love with every gown available at our store, and are very proud to bring to Kelowna brides some of the world's most incredible and unique bride dresses designed.
Our Latest News
Find out latest updates and News
We often get asked why we charge a fee for our appointments and we are more than happy to answer that! Some bridal boutiques charge for appointments and others do not, all for various reasons. At Candè we have a $30 booking fee for our consultation appointments. The...
Cande Video Series
Be sure to subscribe for more!